FREE NAPPY ADVICE: help with chosing & using
Twinkleontheweb was established in 1999, and since then we've become known for giving free cloth nappy advice the help you choose best resuable nappies for you and your baby. We offer impartial advice on all aspects of washable nappies, and we carry a wide range of popular and reliable brands of cloth nappies - everything from terry squares to Tots Bots. We have cloth nappies to suit all requirement whether you're buying on a budget to save money, you need the quickest drying, or are looking for the most environmentally friendly cloth nappy - we carry organic nappies too. We also give free advice on potty training and trainer pants.We carry a wide range of the best modern cloth nappies as well as traditional terry squares, organic cotton nappies, bamboo nappies along with toiletries, washable menstrual products, breast pads, bedwetting and potty training pants, swim nappies, slings and baby carriers, plus many cloth nappy accessories too such as nappy liners, waterproof and wool wraps, nappy bags and nappy buckets too.Nappy buying made simple - design your own trial
BagKits
(with free nappy bag) and complete nappy
BucKits
(with free bucket) We've nappy kits to suit every budget.
We accept

'Specialists in nappies, informative and helpful'
- The Good Website Guide 2008'There are many excellent cloth-nappy retailers on the internet, and probably the best to appreciate the astonishing range of nappy systems is Twinkle Twinkle' - Maggie Alderson, The TimesDownload our free
How To Nappy Guide
Call us for free cloth nappy advice: (+44) 0118 969 5550 .(standard call rate applies) - please leave a message and we'll call you back if not there.
Google+
We have a very wide range of reusable cloth nappies and related washable nappy products for your baby , plus a range of other accessories, toiletries etc, as well as cloth sanitary protection (CSP) too.
I was aware when trying to choose cloth nappies for my daughter that at the time there was very little information around to enable me to compare the benefits of different types of real nappy, and to find that contrary to popular belief, washable nappies do not have to be terry squares that need folding, nor with modern washing machines and detergent do you have to spend hours of effort soaking and boiling them! Over time modern cloth nappies have evolved that are quick drying, modern in fastening and so easy to use. With the vast array of modern cloth nappy products about, we've brought the best and most comprehensive range of real nappies to one site. You'll find that we do tend to put in a lot of extra information about the nappies in use compared to other cloth nappy websites, which we hope will help you in your choice. All this nappy experience is gained over the 15 years plus we've been in business of advising people about nappies, so we can often tell you a lot about your baby just from the nappies you're using and how they perform!
We also have a strict policy of giving you advice free of charge, and we won't pressurise you to buy things you don't really need.
Many people express surprise when ringing for advice to find very often we can suggest a way of making things work for you at little or no extra cost, when they'd asked the same question on a parenting nappy forum or Facebook and been advised to ditch their current nappy system for a whole complete and often unnecessarily expensive new nappy wardrobe..... We've written the key points about each nappy as a bullet point list so you can compare them easily, and for each nappy we've written a comprehensive review based on our experiences and those of our customers and testers as to how the nappy works and performs, which you will find objective and unbiased, since unlike many other well known UK nappy retailers we are neither manufacturers nor distributors of any brands of nappy other than our own label cotton terry squares. These nappy reviews are generally our own personal opinion based on use by our testers and customers, and not just the enthusiastic blurb written by the manufacturer, so you'll know from this 'in use' description of each nappy whether it will suit you and your baby. Naturally there is quite a choice, so if you do need further help in narrowing your choice of nappy please just ask, we're more than happy to answer your call or email and talk nappies! If you find the wealth of nappies available here a bit mind-boggling (and looked on a few other nappy websites to find the same), please don't worry - just phone us or email, and we'll be happy to help you.. You don't need to fill in a questionnaire but it does help if we can know a little about you and your circumstances (drying arrangements, budget, preferences e.g. organic, natural or synthetic fibre for quicker drying, fastening -poppers, Nappi Nippa or Aplix, and any information about your baby's build and height and capacity for drink (or if still waiting for babies appearance an indication of expected birth weight). I have endeavoured to provide a single source of information and supply for most of the major brands of modern shaped nappies available in the UK and from abroad, including the best selling href="http://www.twinkleontheweb.co.uk/acatalog/details-02STR.htmll">Tots Bots Bamboozle Stretch </a>>!!, Imse Vimse, BumGenius
Mother-ease One Size
including the
Bamboo Motherease One Size
and Motherease MultiFit,
Tots Bots
nappies and wraps and Itti Bitti, BumGenius, Bummis, Disana,
Fuzzi Bunz
, Dizzy Diaper, Sandys, Air-Flow, and Rikki wraps, Imse wraps and wool wraps, Stacinator, Bummis, Happy Heinys & Happy Heinys One Size, Litewraps, Nature Babies, Stuffables, Bright Bots terries (and swim nappies and trainer pants), Diddy Diapers, Micro Diddy, Minkis, Slinki Minkis and YoYos,
Itti Bitti
nappy systems, organic nappies plus prefolds, muslins, patterned muslins, and terries, as well as more modern farics such as Bamboo Nappies (
Bamboo Nappies
, terries or prefolds), or microfibre (MicroDiddy, Flexitots, ) to name but a few.....and there's a lot more available too! So if you do not see the nappy you are looking for please do ask, we may well be able to find it for you: we have further stock that isn't on the web site (yet!), and aim to be a one stop nappy shop for all your cloth nappy needs.
If you're confused about the choice of nappies (and there's a lot) and need some help deciding which nappy to try please do not hesitate to call or email us.
A first stop for nappies: We've now been offering advice on choosing and using as well as selling cotton nappies for over 14 years, we were the first multibrand nappy seller to offer an online ecommerce shop, we introduced many product lines to the UK such as fleece liners, Itti Bitti, Kissaluvs and Fuzzi Bunz, we have been featured several times in the National Press and on television, and we now carry in stock pretty much everything nappy-wise from birth to potty and a whole lot more too. Our online shop is secure and PCI complient so you can nappy shop in confidence. If you call us for advice, we pride ourselves in offering impartial advice - unlike many nappy sellers we're not distributors, exclusive retailers or wholesalers of any brands, and we won't advise you to buy anything we think won't work for you or you won't need. We have in excess of 2500 product lines
in stock in our 600sqft warehouse
. We previously supplied a drop ship service to other nappy sellers, sorry we have now discontinued this service.
Great Service thank-you! S What efficiency!!!!! Ordered 3 minutes ago and already shipped. Fantastic !!!!!!!!! - J
(Note this usually only applies to orders placed about 1pm from midweek as we try to get things in that days post - weekends, school holidays and bank holidays get in the way otherwise) We have a large section on
potty training - trainer pants, and night time nappies
, mattress protectors and Buppy pads for protecting the buggy or car seat.. However we always recommend to introduce the potty as early as you can in the first few months to catch those early morning nappy off wees when the cold air hits, as well as those poos you can hear the grunting and straining before they arrive. This way, when you <i>do </i>decide to start potty training later on with your independently minded 2 year old, at least your toddler knows what a potty is for rather than thinking you are somewhat silly because of course a nappy is the proper place for wees and poos....(And for those using Pampers pull-ups, of course your baby will wee in them rather than pull them down and use a potty because other than the way they fasten on they feel just the same as regular disposable nappies which of course are for weeing and pooing in... ) I have also found an assortment of baby care products, a
huge range of natural toiletries
including Green Baby, Green People, Beelief, and more, also tea tree oil products, Sling Easy slings, Hippychick Hip Seats, menstrual wear - Lunapads, Imse and Mooncups, LilyPadz reuseable breastpads, lots of funky Bright Bots and organic clothing cut to suite a cloth bottom, plus other accessories that I feel are of good quality and I hope these will be of interest too. We've recently expanded our
swim nappy
section to include Bright Bots swim wear, flap hats and SPF 50+ beach suits, we also stock Imse swim wear including the new Tankini tops and water shoes, and Kooshies swim nappies. All real nappies have been thoroughly tested on my daughter, our staff and agents babies and by many of my local customers, and with all combinations of wraps. I am aware though that all babies are different, as are all parents needs, though my extensive experience in over eight years of supplying a wide range of cloth nappy systems and products does mean that I may well be able to point you in the right direction to find a washable nappy system or combinations of products to fulfil your requirements. All our staff have used cloth nappies too. Often we will be able to recommend a modification to your current system to improve performance without having to buy new products.
Thank you for taking the time to help me with my soggy son, even though there was no benefit to you. You have sorted my problem without it costing me a penny, other nappy companies were trying to sell me an entire new system! A very happy LS and a dry J.
Do feel able to email me with your questions and queries about washable nappies, no matter how basic or trivial they may seem, even if you haven't bought the nappies from me. I will be only too happy to help.
Call Us - Nappy Help Line: Telephone 0118 969 5550
Sometimes when you call we may be up a ladder fetching nappy stock from the top shelf, at a Nappuccino, or simply on the other phone line. Please leave a message if you get the answer machine.
Our fax number is 0118 969 1965
(if dialling from overseas our phone number is +44 118 969 5550)
The Real Nappy Help Line is normally available 24 hours a day, however at times when busy or on another call, and outside of office hours (9.15-3ish Monday to Friday - we offer child friendly working and work around school pick up times!) your message may be taken by our answermachine or our answering service, in which case we will return your call as soon as we can and on the same working day whenever possible, though this may be in the evening. We also work erratic hours during the school holidays so please do not be alarmed if you're expecting the answer machine at 7am or 9pm! It doesn't matter if you are an existing customer or not, and even if we don't stock the reuseable cloth nappy brand you have a query about, we are more than happy to help if we can - often our solutions will not cost you any money. If you do get the answering machine, please leave your name and number as well as the best time to call you back. This is not a premium or subsidised line so calls are charged at your telephone provider's normal rate. You may find the answer to your queries available as a download here:
How to Nappy
The comments and assessments I have made on this web site result from my own experience and those of our customers, however, I know that manufacturers do alter specifications and, as I have said, your needs and circumstances may differ from mine. You will understand that I cannot accept responsibility for any consequences arising from your purchases, but I shall always recommend any comments from you. We are open for orders at all times, our secure on-line ordering system is operational 24 hours per day, every day. Nappy orders are despatched on working days only, and are often packed at unusual hours day or night, so do please phone us if you need a next day delivery service to ensure this is possible.Our site complies with latest PCI recommentations and is certified PCI complient Visitors to our premises are by appointment only on Friday mornings 9.30-12.00.
We're pleased to be a supplier to the Real Nappies for London campaign - click logo for more information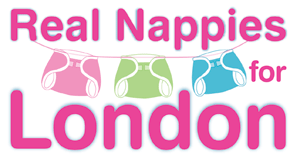 If you live in London, many boroughs now offer voucher incentives of between £30 and £54 depending on borough enabling you to try out cloth nappies. Please visit the Real Nappies for London site for details of the voucher scheme available in your area. The real nappy online shop for all your cloth nappy needs