Just arrived in stock from Popolini some lovely new patterned muslins.  I think patterned ones are great – they don't show the grubby marks when they've been dragged about by a toddler all day.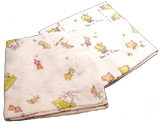 Popolini, the Austrian nappy manufacturer have been producing patterned muslins for many years.  They're made in Pakistan , where the cotton is grown.   I'm not sure if it's Popolini's idea or the Pakistani manufacturers but the prints are always a little unusual, and somewhat different from the cute teddies and animal prints of other manufacturers.  Take these 2 prints that have just arrived.  Both are very cute and colourful as well as gender neutral. Firstly in the foreground we have 'Robin Hood'  Now I rather think they've confused the heros …but if I'm not mistaken that looks like a dragon and St George complete with his sword and shield, as well as castles and a damsel who could I suppose be Maid Marion but there's no sign of the Merry Men or Sherwood Forest.  The other print is called simply 'Hippo' and is of upright hippos, some in stripy shorts with the words 'tous a l'eau' which if my 'O' level English remembers correctly means 'all to the water' – and sure enough there are also some random coloured bubbles.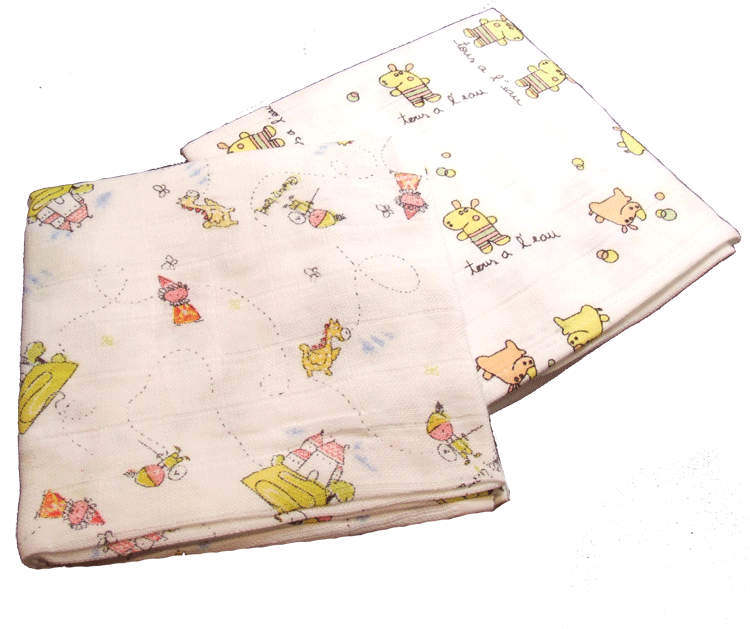 I'm sure these will be very popular as patterned muslins particularly at certain times of the year can be quite hard to find.  Aside from use as a comforter you can also use them as first nappies folded, secured with a Nappi Nippa and a wrap on top, or as bib, or a mopping up cloth, wrapped around as a toddler skirt, burp cloth or any one of a multitude of other uses.